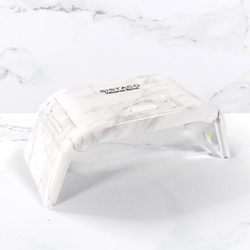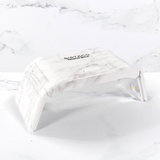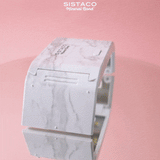 It's the new generation of setting here at Sistaco! Our new 36 Watt LED Lamp is packed full of the features you have been asking...
Read More
It's the new generation of setting here at Sistaco! Our new 36 Watt LED Lamp is packed full of the features you have been asking for, and all in a convenient handbag-friendly size!
Sidelights for 180º all-over setting

Two timer settings (press once for 60 seconds, or press and hold for 120 seconds)

Folds out to the perfect size to fit your whole hand

Stable base with leg locking feature 

Stunning marble finish
Dimensions: 11.5cm L x 7cm W x 5.5cm H (when stood up)
                      11.5cm L x 7cm W x 2cm H (when collapsed)
Read Less
4 payments of $9.25

Own it now, pay later

No interest, ever
4 Reasons Why People Love Sistaco
Quick and Easy to Use
Our system is so simple and produces a perfect salon-quality finish every time - This is the system for all ages and experience levels. No dipping or drilling; just simply brush it on and remove easily whenever you want!
Long-lasting
Your application will last you up to 2 weeks, often longer, protecting your nails and keeping them strong. As we're the only nail system where you can mix your own colours, you'll be getting creative and wanting to change sooner!
Non-Toxic
All of our products are non-toxic! They are also odour free so say goodbye to salon headaches or smelly dip kits. Sistaco is unique which is why we have hundreds of thousands of customers worldwide.
Money Saving
Let's face it, it's tough finding the time and the money to go to a salon continually. Our system will save you thousands over the year, you can do over 30 full manicures with a single pot. That's one every 2 weeks for a YEAR! And with so many shades in our range, you will never be bored.
HOW DOES SISTACO NAIL SET WORK
Fantastic compact unit.
I received this as a gift with a few other things. It works perfectly! I had one of the original ones but found it never set properly, so I switched to my more powerful sun lamp, but the new design is great. Better with the LEDs down the side to get thumbs and fingers all at once and the extra power and double timer feature in a compact unit really is hard to go past.
Love it!
This lamp is so much better than the one which came with my initial kit. Much sturdier, more lights and bigger space for hand. The timer can automatically shut off at 1 or 2 minutes depending on how you push the button!
LED lamp
Received lamp with thanks This is my 3rd lamp as the other lamps ceased working. I am not disconnecting the cord from the lamp hoping it will last longer, What is the warranty on these lamps.