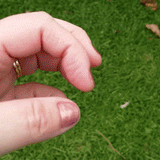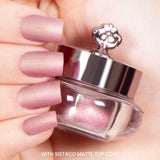 Espresso - Classic - Pre-order
Ships 7th December - The complete order will be on hold until the pre-order item is available to be shipped together.     Espresso is the...
Read More
Ships 7th December - The complete order will be on hold until the pre-order item is available to be shipped together.    

Espresso is the perfect 'wake me up' shade that all your friends and co-workers will compliment!

Our nail powders are applied by brushing the powder onto your nail to achieve amazing results in minutes. Our 16 free formulation also means you will not be damaging your nails in the process as it doesn't contain the harmful chemicals found in most nail products. Pair this nail powder colour with our Mineral Bond Nail Sets for amazing salon-quality results but in the comfort of your own home.
Weight: 2g
Read Less
4 payments of $5.75

Own it now, pay later

No interest, ever
Phyllosilicate Minerals, Titanium Dioxide, Tin Oxide May Contain +/- Iron Oxides, FD&C Red 40

4 Reasons Why People Love Sistaco
Quick and Easy to Use
Our system is so simple and produces a perfect salon-quality finish every time - This is the system for all ages and experience levels. No dipping or drilling; just simply brush it on and remove easily whenever you want!
Long-lasting
Your application will last you up to 2 weeks, often longer, protecting your nails and keeping them strong. As we're the only nail system where you can mix your own colours, you'll be getting creative and wanting to change sooner!
Non-Toxic
All of our products are non-toxic! They are also odour free so say goodbye to salon headaches or smelly dip kits. Sistaco is unique which is why we have hundreds of thousands of customers worldwide.
Money Saving
Let's face it, it's tough finding the time and the money to go to a salon continually. Our system will save you thousands over the year, you can do over 30 full manicures with a single pot. That's one every 2 weeks for a YEAR! And with so many shades in our range, you will never be bored.
No Dipping Or Drilling Here. Simply Brush It On!
HOW DOES SISTACO NAIL SET WORK
Great work colour
Fabulous neutral colour for everyday wear. I also use it in my toes where it looks fresh for weeks. It's fantastic go to colour that suits all occasions
Love Espresso Classic
I did my mums nails (she's 81) and she and I love it. A great natural colour which can transition for any occasion. I'm just about to put it on my nails again too. I love the ease of the blue light system and knowing my nails will look great for ages.